Most families combine some level of savings and borrowing when paying for college. One of the best ways to build your savings is to put money aside early and often. Thanks to the power of compounding, saving and investing even a little each month can be more cost-effective than borrowing money and paying interest on it.1
Let's say, with an assumed annual return of 5%, you began saving $10 a month when your child was 1 year old (with an initial contribution of $250). At this saving rate, your 529 college savings plan could potentially have an account worth $3,280 by the time your child is college age.2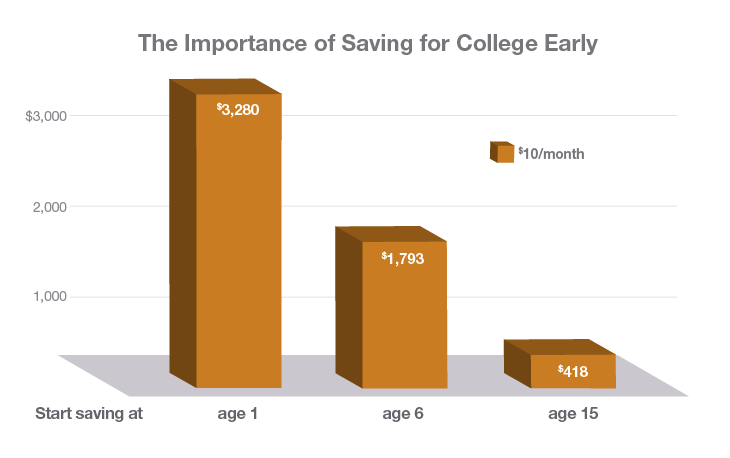 Managing to save even a small contribution each month is a far better plan than borrowing all of what you'll need when the time comes. Our College Savings Planner is an easy way to help you:
Find out how much college could cost when your child reaches enrollment age
See if you are on track to reaching a college savings goal
Show how saving now can significantly reduce the amount you may need to borrow.
Get started with the College Savings Planner now.
Find money in your budget
With all of the strain on your budget, you may ask yourself – how much can I really afford to save for my child's education? Good news: even $30 a month—less than the cost of your morning coffee or a few lunches out—can go a long way toward helping you save more and borrow less.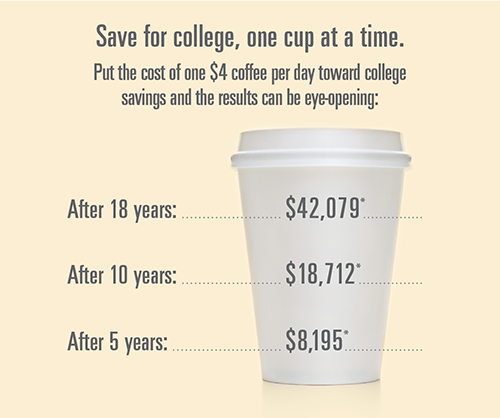 * AT $4/DAY WITH 5% INTEREST
This is a hypothetical scenario and does not reflect an actual investment.
Source: "Pay for College - College Savings Calculator." The College Board April 2015.
1 A plan of regular investment cannot ensure a profit or protect against a loss in a declining market.
2 This hypothetical example is for illustrative purposes only and assumes no withdrawals made during the period shown. It does not represent an actual investment in any particular 529 plan and does not reflect the effect of fees and expenses. Your actual investment return may be higher or lower than that shown. The loan repayment terms are also hypothetical.