Custom Portfolios
Choose from among six Custom Portfolios that invest in stock funds, bond funds, and a short-term reserves account, all managed by Vanguard.
Unlike Age-Based options, your allocations here remain generally fixed. Of course, you may decide to change to a more conservative Custom Portfolio as your child approaches college age. That's up to you.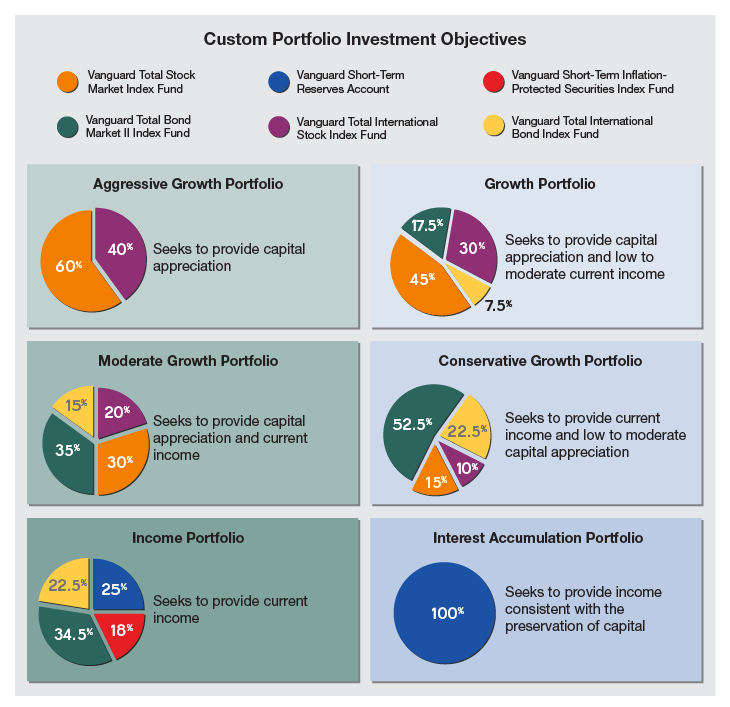 NOTE: You could lose money by investing in a portfolio which includes the Vanguard Short-Term Reserves account which in turn invests in the Vanguard Federal Money Market Fund. Although the money market fund in which your investment option invests (the "underlying fund") seeks to preserve its value at $1.00 per share, the underlying fund cannot guarantee it will do so. An investment in this investment option is not insured or guaranteed by the Federal Deposit Insurance Corporation or any other government agency. The underlying fund's sponsor has no legal obligation to provide financial support to the underlying fund, and you should not expect that the sponsor will provide financial support to the underlying fund at any time.