529 plans were established to help parents and grandparents save money for college. In fact, the name "529" refers to the Internal Revenue Code section that discusses this type of college savings tool.
While there are other types of college saving vehicles, 529 plans offer several features that can help families keep pace with the rising cost of a college degree.
Tax-deferred growth
With a 529 account, your savings has the potential to grow at a faster rate than if you had invested in a comparable taxable account. That's because, unlike a conventional investment, your 529 growth is not taxable year after year.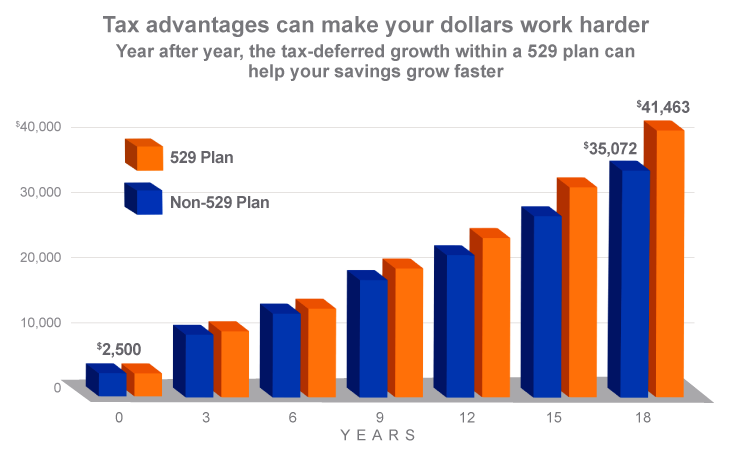 Assumptions: $2,500 initial investment with subsequent monthly investments of $100 for a period of 18 years; annual rate of return on investment of 5% and no funds withdrawn during the time period specified; taxpayer is in the 30% federal income tax bracket for all options at the time of contributions and distribution. This hypothetical is for illustrative purposes only. It does not reflect an actual investment in any particular 529 plan or any taxes that may be payable upon distribution.
Tax-free qualified withdrawals
Once your child reaches college age, withdrawals for qualified higher education expenses are free from federal income tax. That way, more of your savings goes toward paying for college rather than taxes.1
Effective January 1, 2018 savings, up to $10,000 per tax year per beneficiary, in the aggregate from all 529 plan accounts held for the same beneficiary, may be withdrawn and used for expenses for tuition in connection with enrollment or attendance at an elementary or secondary public, private, or religious school (K-12 Tuition Expenses) without incurring federal income tax.
Earnings on withdrawals up to $10,000 per tax year per beneficiary from your Arkansas 529 GIFT plan account used for K-12 Tuition Expenses will also be free of Arkansas state income tax. If you are not an Arkansas taxpayer, the state(s) where you pay income tax may differ in its state income tax treatment of K-12 Tuition Expenses. It is the account owner's responsibility to ensure that distributions for K-12 Tuition Expenses do not exceed the limit for a beneficiary. You should consult with a tax advisor regarding your individual situation. Learn More
Estate and gift tax advantages2
You can contribute up to $15,000 (up to $30,000 for married couples) per designated beneficiary each year, without incurring federal gift tax consequences. You can even contribute up to $75,000 per designated beneficiary in a single year (up to $150,000 for married couples) by taking advantage of five years' worth of federal tax-free gifts at one time.2
Arkansas state tax deduction3
Are you an Arkansas taxpayer? Then you can deduct up to $5,000 (up to $10,000 for married couples) of your Arkansas 529 GIFT Plan contributions from your Arkansas adjusted gross income, with any unused excess contribution in a tax year being carried over to the next succeeding four tax years, beginning January 1, 2017.
1Earnings on non-qualified withdrawals may be subject to federal income tax and a 10% federal penalty tax, as well as state and local income taxes. The availability of tax or other benefits may be contingent on meeting other requirements.
2The gift will be prorated over five years. In the event the donor does not survive the five-year period, a prorated amount will revert back to the donor's taxable estate.
3Contributions to the GIFT Plan in a tax year are deductible from Arkansas state income tax, subject to recapture in subsequent years in which a non-qualified withdrawal or a rollover out to another state's 529 plan is made.